Man of the house V0.7.5B + incestpatch
Man of the house V0.7.5B + incestpatch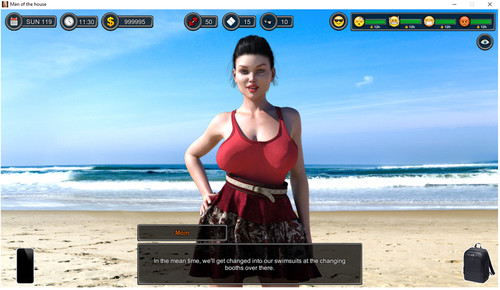 Remember: Other versions also available in my profile 😉
Tags:
game hentai, game porn, game select, sex game, virtual sex game, Anal, , Anime game, incest.roleplay, brother.sister, stepmother, game, seduction, rpg, stepmother.stepson, stepmother.stepdaughter, unity.3d, manofthehouse,



In this game you will play as a young adult, who is living together with his attractive (step*)mother and 2 hot (step*)sisters, in a city filled with even more gorgeous women!
Each NPC has their own storyline and you get to decide when and where you would like to explore and which girl you want to pursue. Every update will expand on existing storylines, but also on adding new locations, girls, jobs, events, etc.
Incest patch is included

v0.75b
Fixed dinner and wake up service.
v0.7.5
New content
Added a new location.
Added a new NPC.
Added a new dialog with Ashley (introducing 2 future NPC's).
Note: this will move you to your bedroom if you are past this point, as this will normally trigger after the evening with mom.
Added a new event for Ashley and Veronica.
Added a new event for Emma.
Extended an exisiting event chain for Claire (with a new animation).
Spying on Veronica in the bathroom shows an updated dialog.
Added a new batch of cosplay collectable images.
Gameplay
Added a new feature to see the dialog history (up to a limited amount of lines).
Sleeping no longer increases stress.
Bug fixes
Updated/corrected several hints.
Travel speeds are now adjusted according to the selected mode of transportation.
Removed the flickering of NPC's when clicking fast.
Mood lock times are now reduced correctly during events.
Dinner at the restaurant with Veronica and with Claire at home, now decreases your hunger.
The tooltip now resets after loading a game.
Removed a bug that caused memories to trigger twice.
Spacebar no longer makes dialogs skip.
Remembering scenes from the city map, no longer causes the map show over the scene.
Veronica no longer disappears from her room after doing a chore.
Veronica now responds appropriately when discussing your/her chore during dinner.
Veronica now properly awards stats after a date with a score of 8.
Veronica's dialog now triggers correctly, when giving her the maid outfit.
Veronica's bathroom event can't be triggered twice in a row anymore, preventing a bug in her progress.
Veronica now actually stays at home, when she has taken the night off from work.
Veronica's punishment now increases time accordingly.
Claire no longer mentions the beach event, if it hasn't been triggered yet.
Claire's titjob event no longer triggers the default event, right after.
Sophia now goes into the dressing room after she finished her workout.
Sophia no longer joins in the sauna on Saturday.
You can no longer buy the concert tickets before they are mentioned during dinner.
Fixed a bug causing the timeout value for needs to drop, while increasing them.
Fixed a bug with playing background music.
Fixed a lot of minor bugs and typos again. Thanks for all the feedback & bug reports guys!
Extra version
Added some more bonus images to the extra version.
Fixed a bug with locking and unlocking needs.
Note: use 7zip or Winrar for Extract


Keep2Share
» Download or PLAY NOW | Man of the house v0.7.5b (extra).rar «
» Download or PLAY NOW | MotH_mapping.rar «
_____________________________________________
Enjoy, This is Fun! And Remember to check my profile for more news 😉